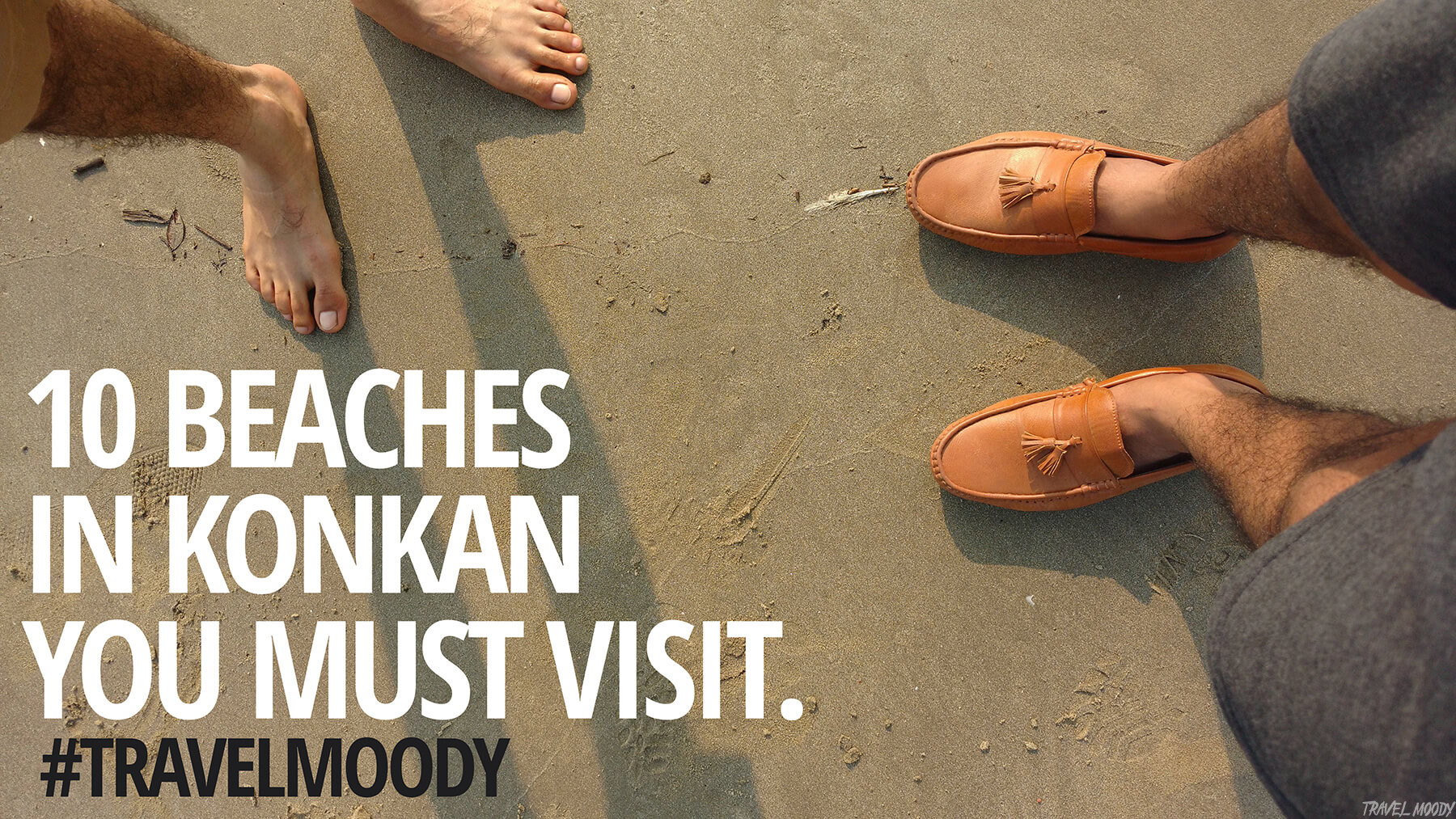 P eople often complain about how there are no good beaches in India. All the beaches here are either crowded or dirty, sometimes both. Well, they definitely never visited Konkan. And if you are the one who thought the same. Just visit our Konkan and prepare to be amazed.
Konkan's beaches are some of the gorgeous and clean beaches in the world. Beaches in Konkan also has a lot of cultural and historical significance. And the best part is, each and every beach has its own personality.
Still confused as from where to start? Don't worry, you've visited the perfect blog for this question. Here are the 10 amazing beaches you should absolutely visit in Konkan.
1: Tarkarli Beach
Starting off the list with a strong one, Tarkarli is among the most popular beaches in Maharashtra. Although more crowded and commercialized, Tarkarli is the perfect gateway for beautiful scenery and adventure sports.
The most unique feature about Tarkarli beach is it has one of the vast and active coral ecosystem in India, another one being at the Andaman Islands. Also, Tarkarli is a hub for professional SCUBA diving and other aquatic sports. Indian Institute of SCUBA Diving and Aquatic Sports (IISDA) is located in Tarkarli, which is the government organization dedicated to aquatic sports. You can rest assured about the quality and professionalism offered at Tarkarli.
What's more? The beach itself is a beauty to behold, you can stroll around the shore for hours and hours. You can also enjoy delicious seafood as much as you want here.
Read more about Tarkarli here (Link to Tarkarli article.)
Beautiful Beaches in Kokan
2: Harihareshwar beach
Konkan is famous for many things, one of them being a pilgrimage destination. You can experience a fusion of beautiful beach and religious serenity at Harihareshwar beach. Renowned for the temple of Lord Shiva, Harihareshwar is also known as Southern Kashi.
Marvel at the beauty of the beach with dark sand and clean water as long as eyes can see. This beach is an ideal spot for getting unplugged from your routine schedule. Despite being one of the famous beaches in Konkan, it is surprisingly less crowded. That mean, you can spend more personal time.
What's More?  You can visit the famous Harihareshwar temple and Kalbhairov temple. You can visit this beach at any time of the year to have a perfect weekend.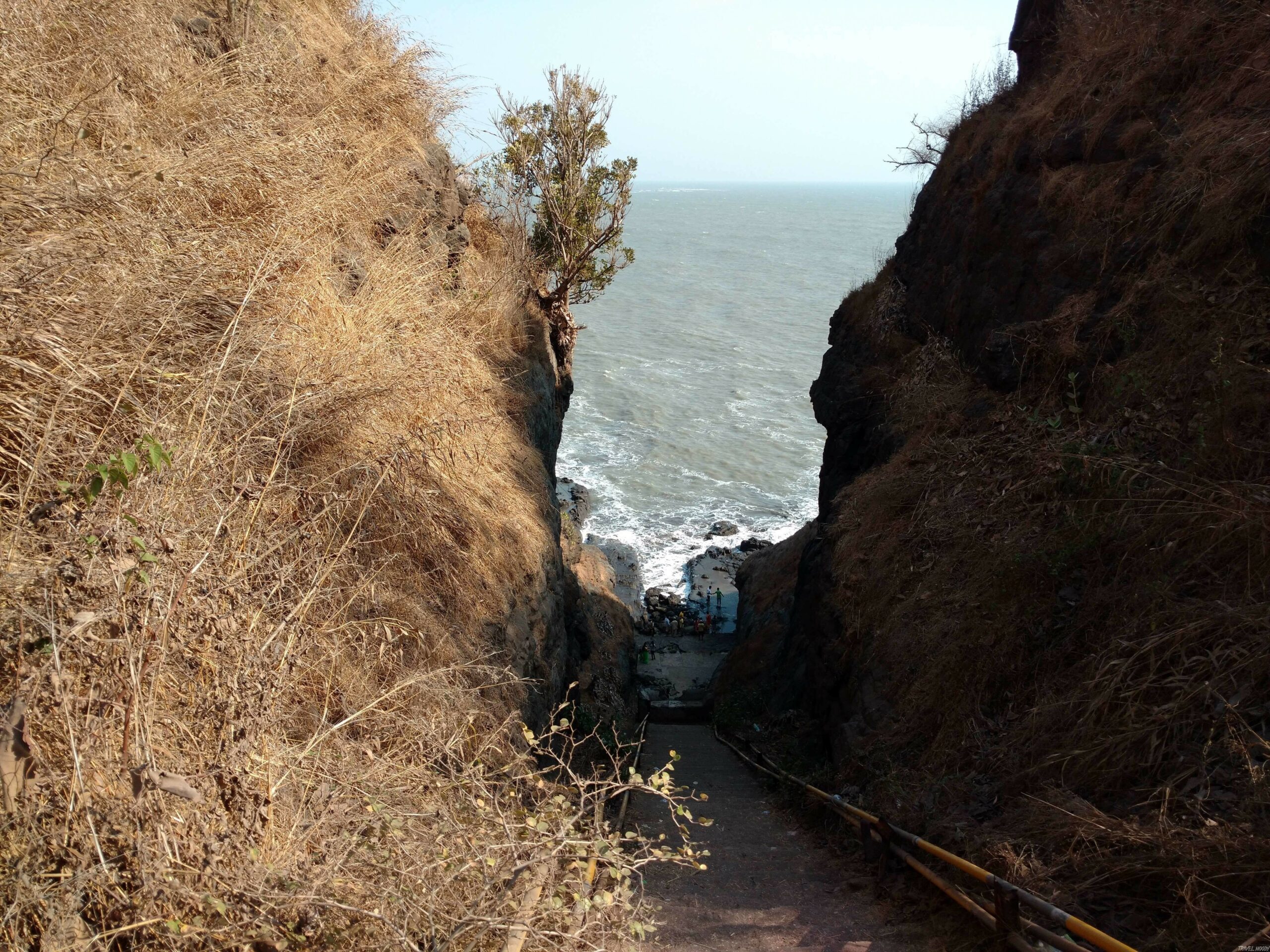 Harihareshwar Beach Site, Dapoli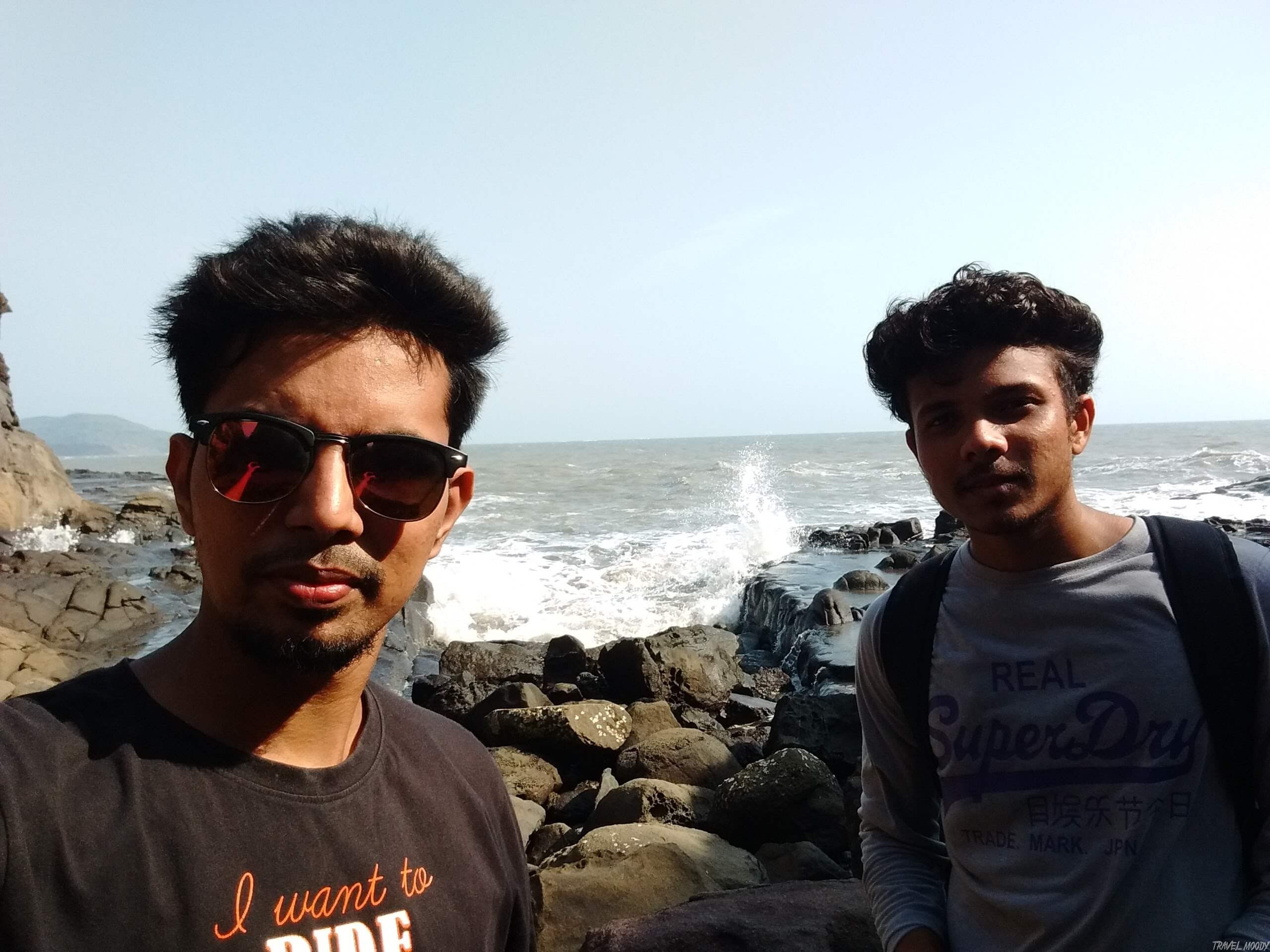 Vitamin Sea- Travelmoodys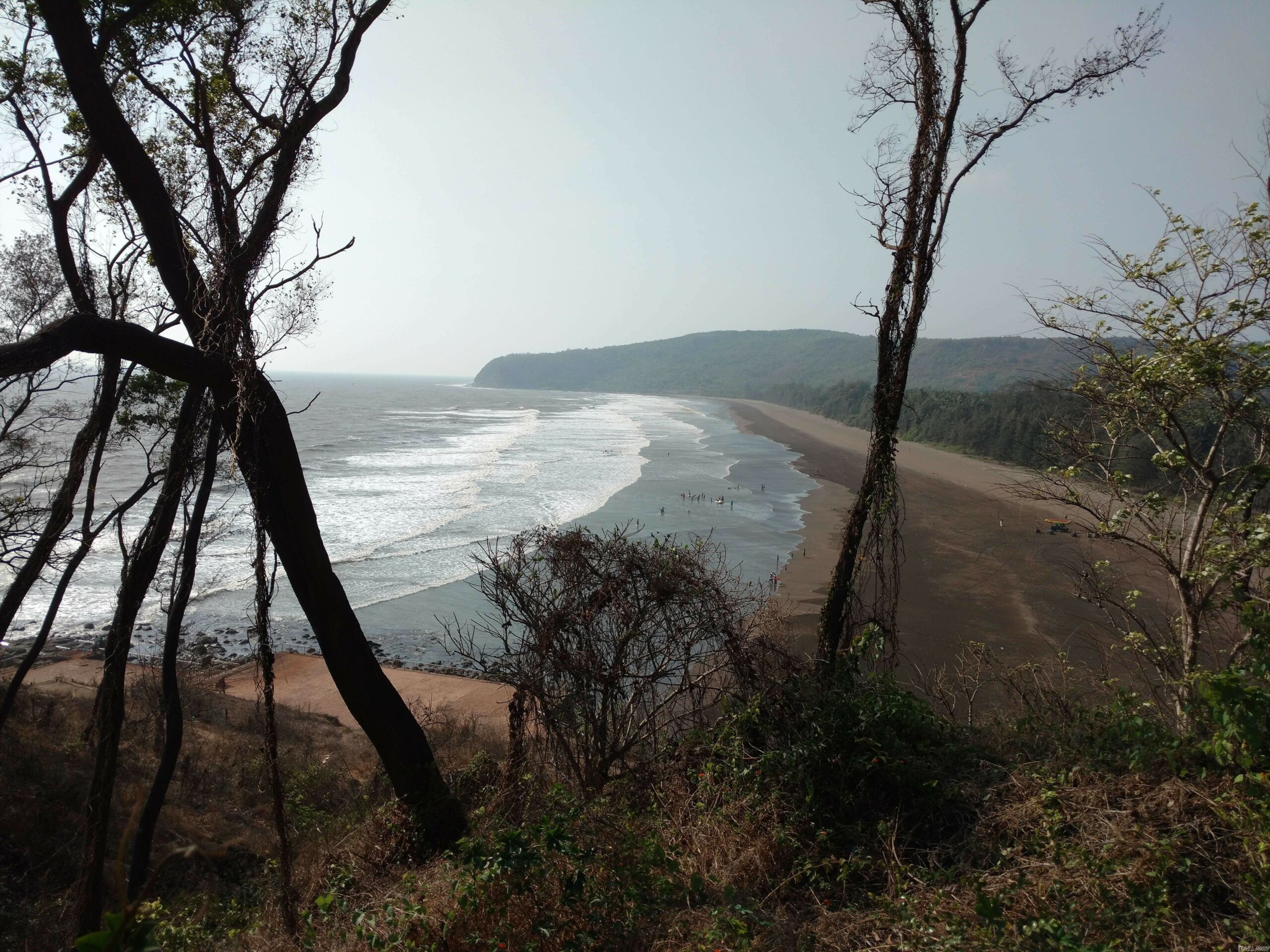 Harihareshwar Temple and Beach from top view
3: Alibag Beach
Alibag is a go-to destination for travelers from Mumbai and Pune, and rightfully so. Alibag is rather a set of multiple beaches which are equally scenic. In fact, Alibag is an ideal destination for Avid photographers for the beautiful scenario it offers, especially during sunrise and sunset.
Alibag is an ideal destination for short trips as all the beaches are a few minutes drive away. You will enjoy clean air, unpolluted waters, soft sand and gaze upon the horizon for hours and still won't get enough. It is a beast destination if you want to hang out with your friends and have a thousand memories to share.
What's More? Alibag is also famous for Coloba fort, which is a beautiful relic of the Maratha Empire. Fort is accessible by boat and in a good shape. You can also visit the famous Mandwa beach which is a shooting destination for many Bollywood movies. Photography enthusiasts must visit the Kihim beach nearby.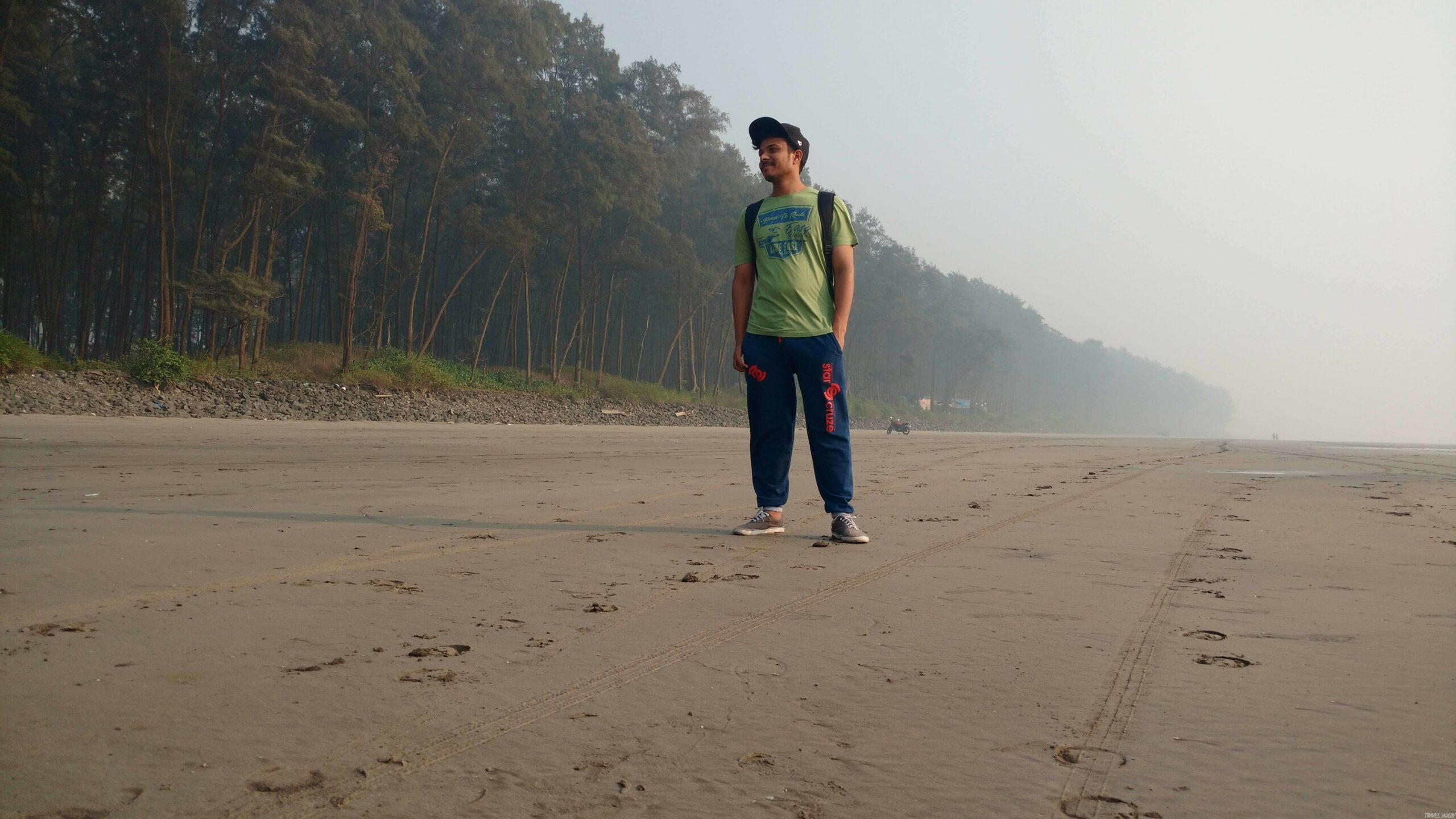 Alibagh Beach tour
4: Kashid Beach
Famous for its lack of crowd, Kashid beach is an ideal location for people looking for alone time with themselves or with their loved ones. Kashid beach is surrounded by casuarina trees, food stalls, and hammocks. If you visit Kashid beach on weekdays, it will almost feel like a private beach. It's on weekends when the crowd is relatively high.
You will witness a splendid view of Sky touching the land as long as you can see. You can also enjoy many aquatic sports like motor boating, jet skiing, banana ride and more while you're at it.
What's More? Kashid Beach is near the famous Murud Janjira Fort, which is one of the most important marine forts in Maharashtra. It is said that Muruj Janjira fort was literally unconquerable. It is still at a very good state and can be reached by ferry boat. Phasand wildlife sanctuary is also nearby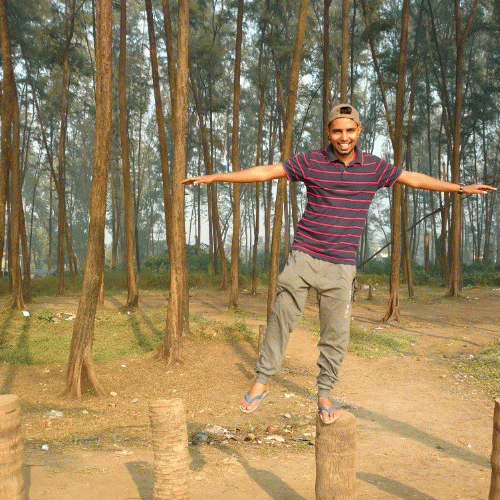 kashid beach Masti
5: Diveagar Beach
Looking for a beach trip at dirt cheap price? Look no further than Diveagar Beach. A relatively unknown beach in Konkan, it is an ideal place for a short trip with friends.
Deiveagar beach also offers many adventure sports like paragliding, banana ride, Horse Riding and more. In a famous incident, a golden statue in the temple got stolen in 2012. It is now replaced with a silver idol of Lord Ganesh.
What's more? You can visit Roop Narayan temple nearby, or enjoy a delicious fish fry and curry in local restaurants.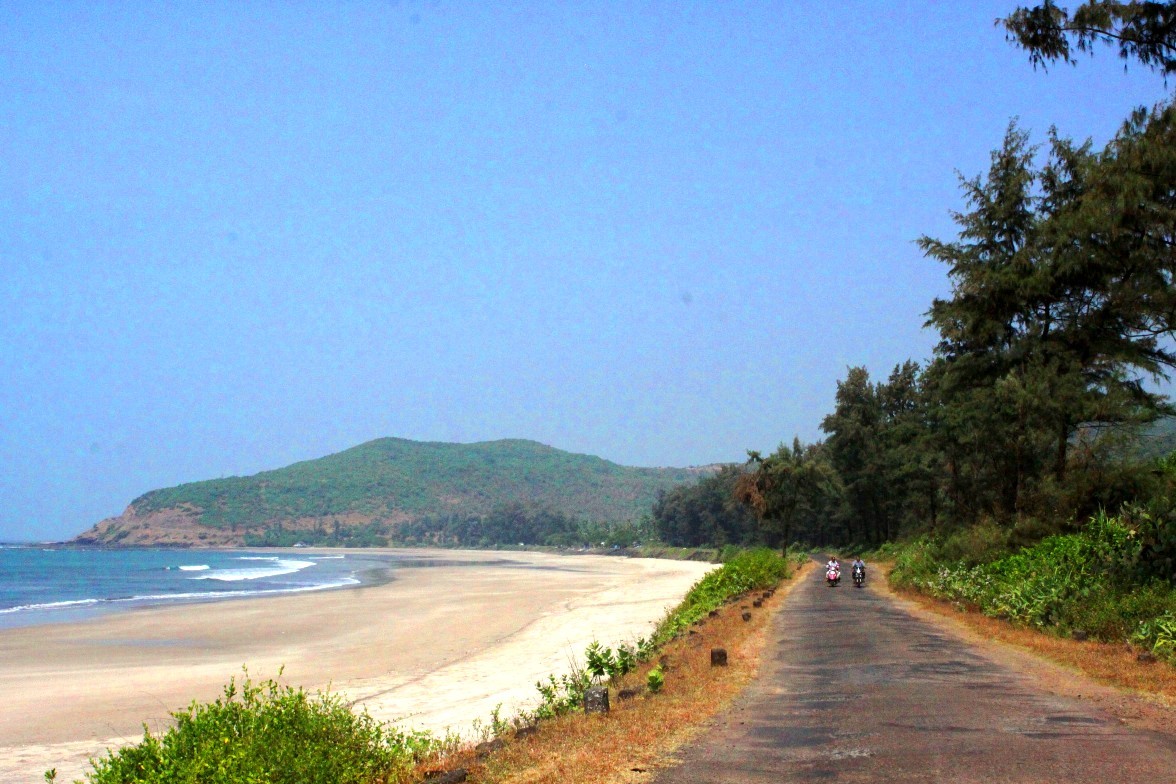 Diveagar Beach- Costal Road
6: Malvan Beach
Malvan Beach doesn't need any introduction. A flagship tourist destination in Konkan, it is arguably the busiest tourist destination in Konkan. Malvan beach is famous for a decent crowd (which increases a lot during weekends), its seafood variety, many adventure sports and of course, Sindhudurg.
Malwan beach is one of the biggest tourist destinations in Maharashtra. Achieving a perfect combination of natural environment and urban sophistication, Malvan beach is the best gateway for a weekend trip with families and friends. You can also enjoy authentic Malvani fish recipes made by locals.
What's More? Whatever I've mentioned before is just the tip of the iceberg. Visit Malvan beach yourself and see how it can surprise you. And don't forget to visit Sindhudurg. A marine fort designed and constructed under the guidance of Chattrapati Shivaji Maharaj themselves.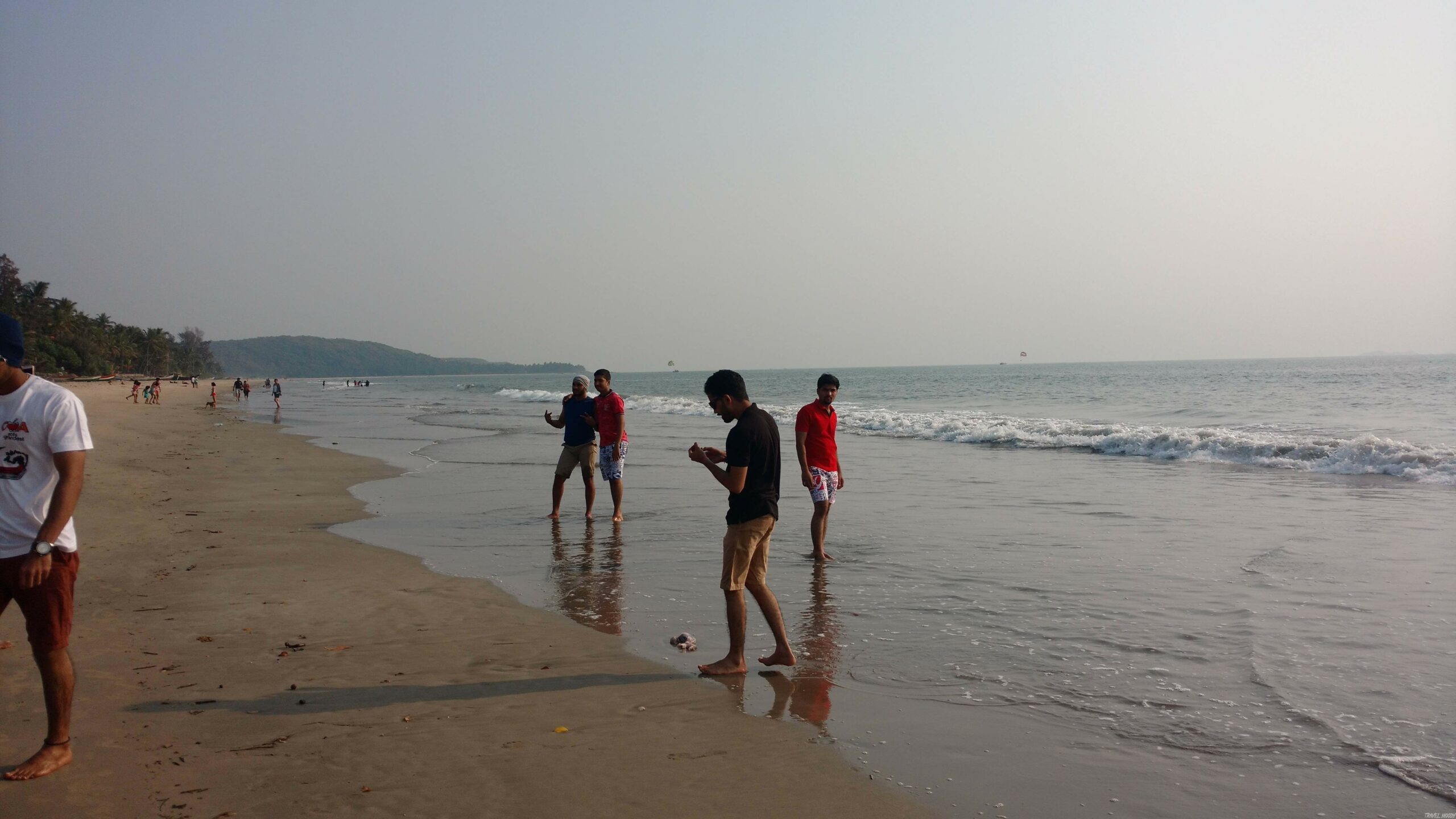 Malvan beach, Clean and Beautiful !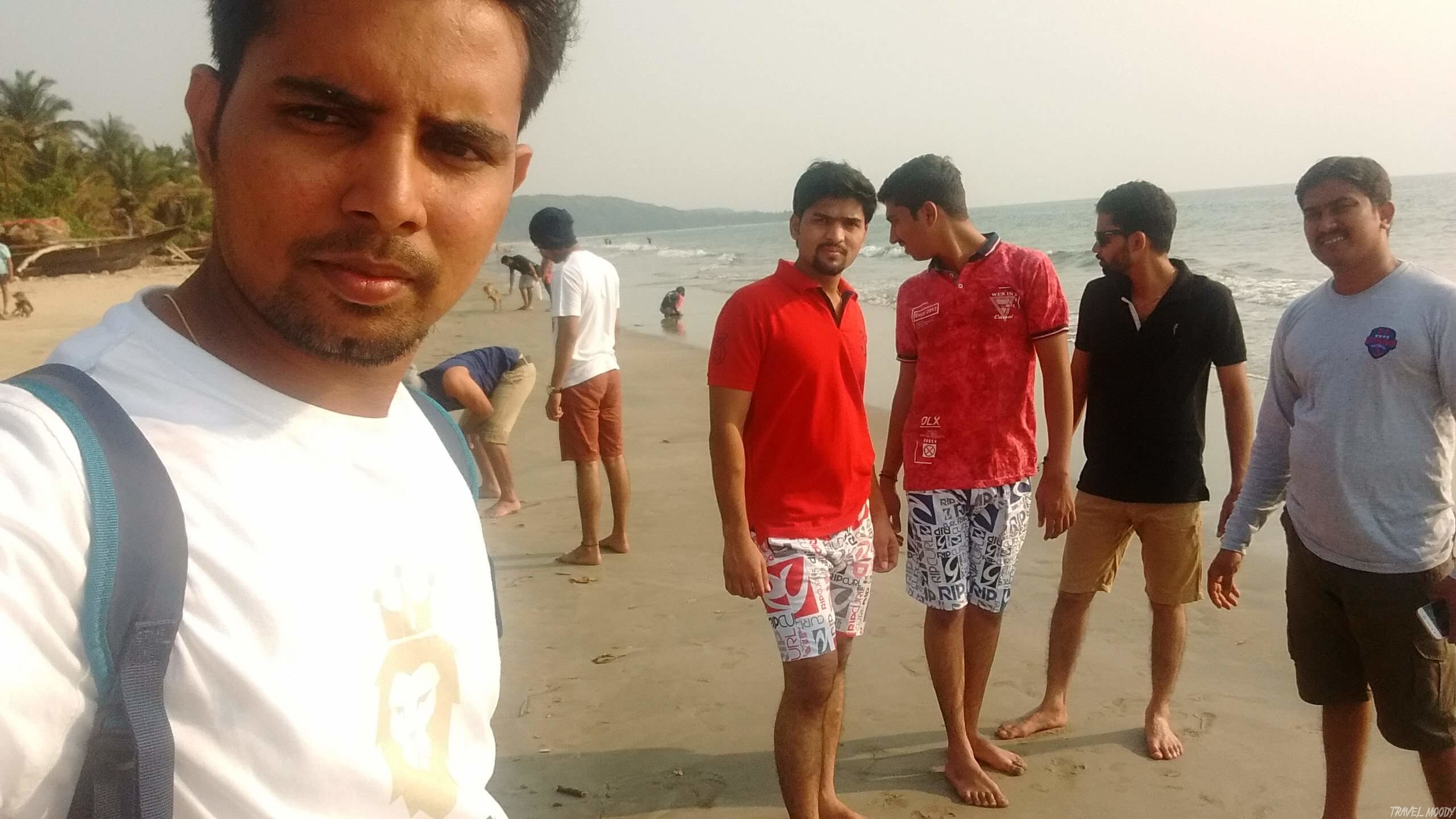 With Friends enjoying the sunset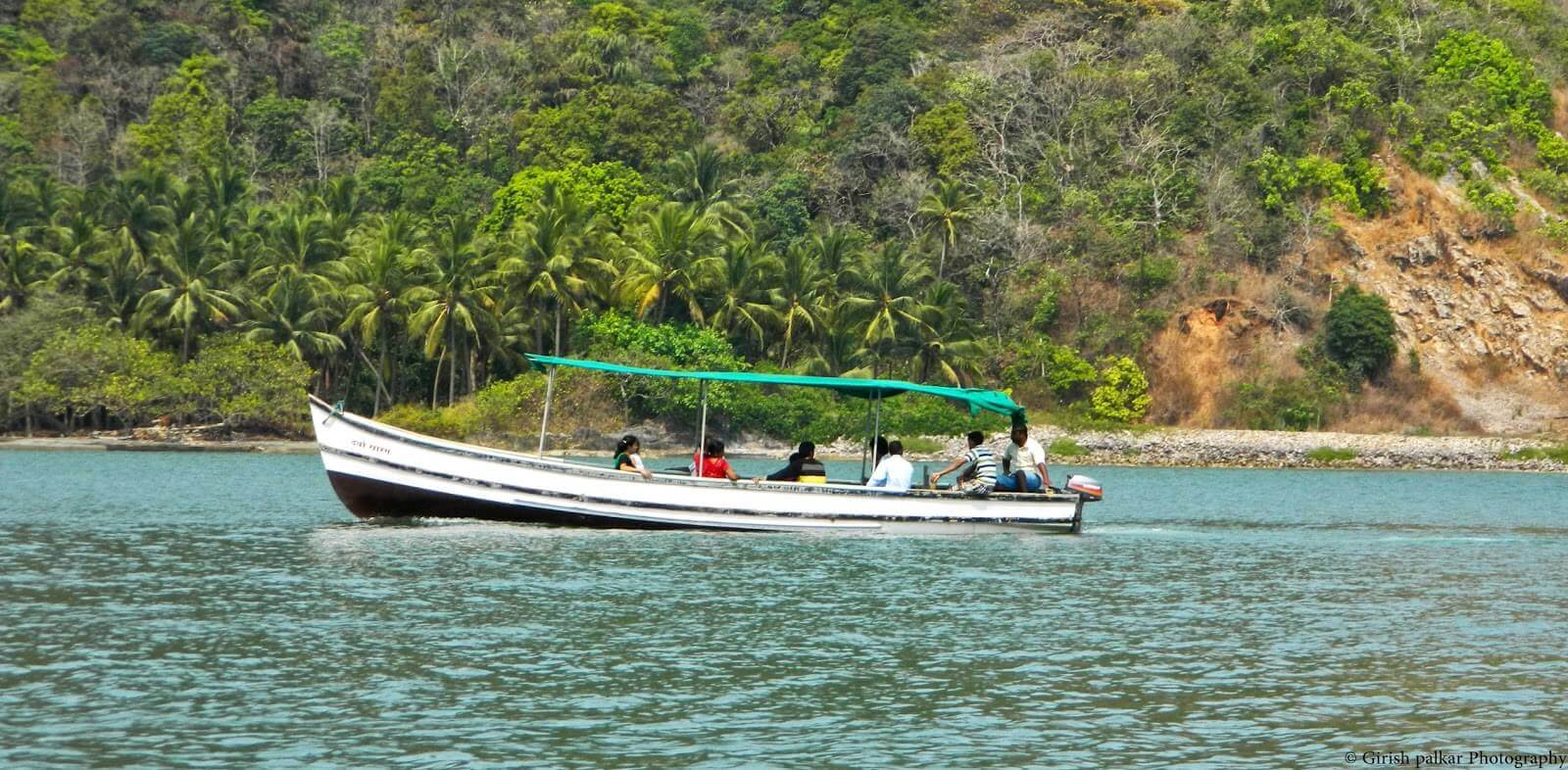 Tarkarli backwater Boat Ride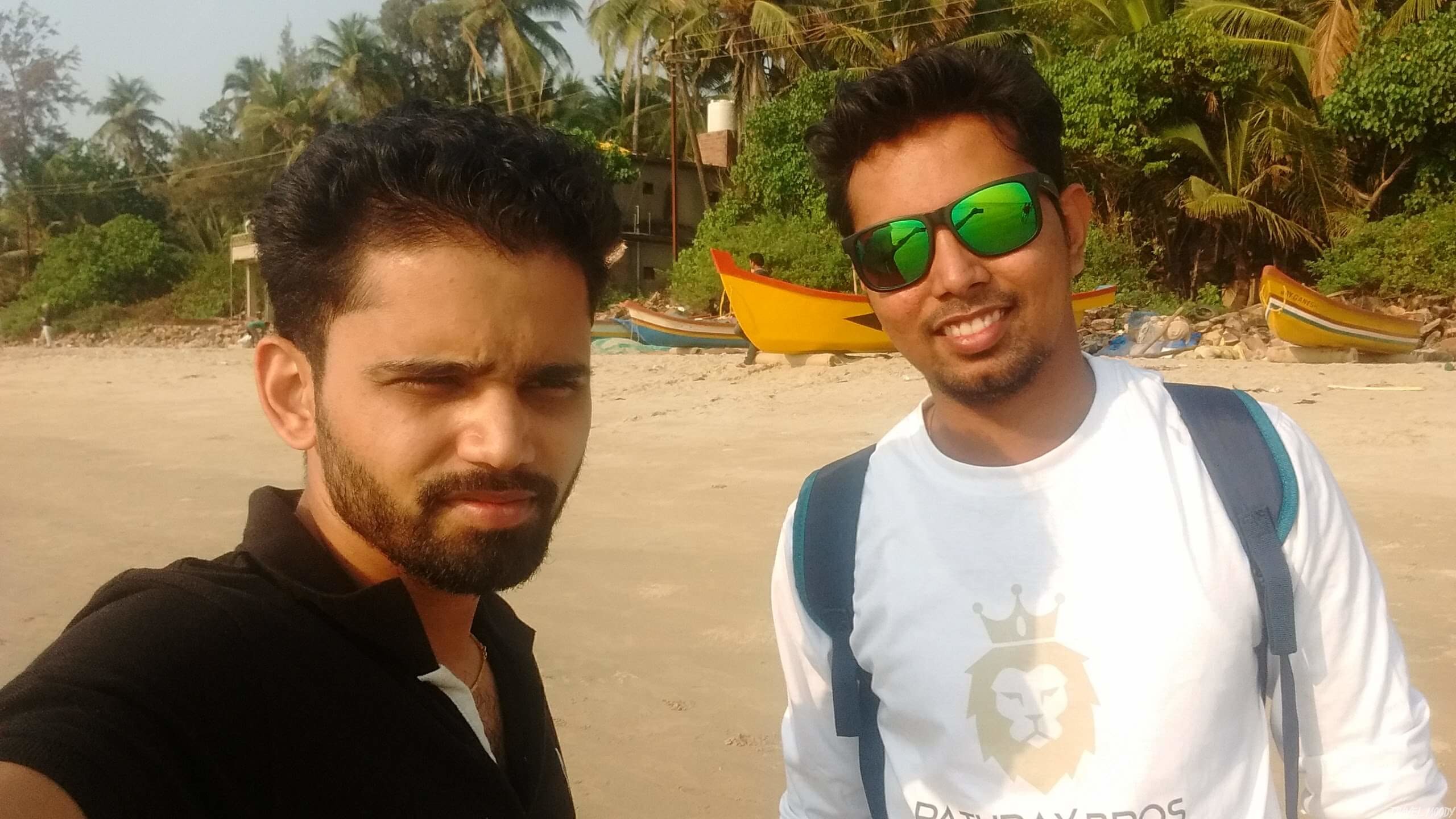 Brotherhood Selfie 🙂
7: Dapoli Beach
Looking for a quick gateway from Mumbai and Pune? For a long road trip with friends with twist and turns of ghats and road surrounded by greenery? Then Dapoli is an ideal place for you. Located at a traveling distance from two major cities. Dapoli is an ideal road trip plan to hang out with your Gang.
Also known as Mini Mahabaleshwar due to cold climate throughout the year, Dapoli takes you one step closer to nature with exotic scenery, fresh air, peace of mind. Dapoli will keep you occupied during your journey there are many things to explore in Dapoli such as multiple beaches, temples, and caves.
What's More? Being an ideal road trip destination for avid travelers, Dapoli is full of surprises. Dapoli has multiple beaches to explore. Also, many temples, historic caves are nearby. Rest assured that you will utilize your weekend the best way at Dapoli.
Read more about Dapoli here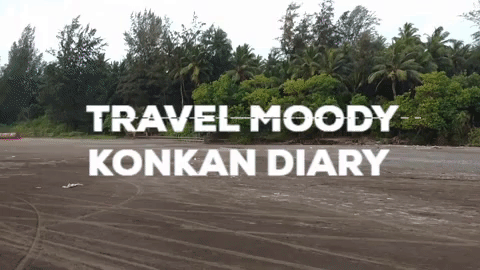 8: Anjarle Beach
Anjarle beach is an authentic Konkan beach in the best possible way. It has its trademark scenic beauty and relative privacy, swimming with friends is an experience to be remembered. Anjarle beach is also surrounded by a thick forest of jackfruit, coconut, and other trees.
Anjarle kept his authentic Konkani look and feel with nearby villages. Even local resorts follow traditional Konkani Motif. Visiting such a vintage beach is almost therapeutic. It gives you a much-needed boost for the entire month or a year.
What's More? You can visit Anjarle during Annual turtle festival to experience a valuable wildlife protection activity done by locals. Shri Ganesh Temple, Karde beach, Murud beach, and Suvarndurg fort is also nearby.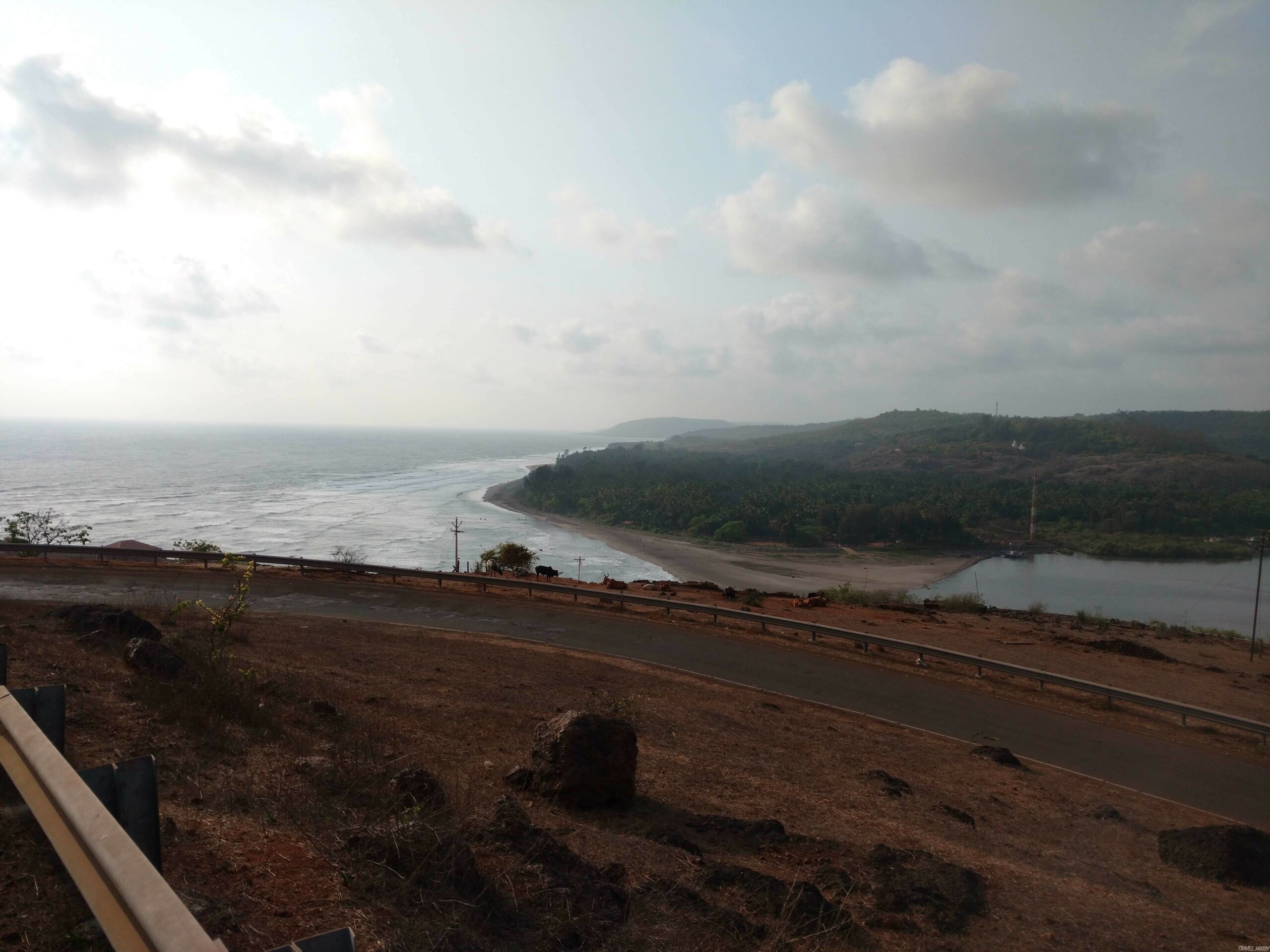 Family Friendly Destinations Konkan -Anjarle Beach View from Top
9: Velas Beach
Velas beach is a relatively new tourist destination as it has become popular in recent years. Being a beach in Konkan, it has its signature beauty and serene environment. But what made Velas beach popular is the Annual Turtle Festival held during February and April.
During the Annual Turtle Festival, many young hatchlings of Olive Ridley Turtle are rescued and released back into the ocean. These species are considered endangered by Wildlife Federation. Local Volunteers from Velas are doing a tremendous job at preserving this beautiful and delicate animals. You can also volunteer for this event and witness one of the most adorable moments of your life.
What's more? You can also visit multiple tourist destinations nearby. Like Bankot Fort, Anjarle Beach, Bhatye beach and Velneshwar Beach.
Read more about Vekas Beach here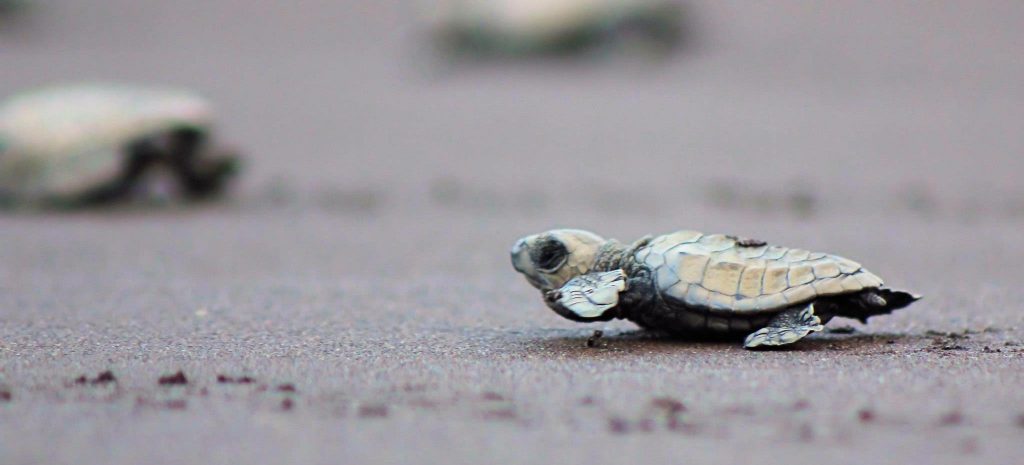 Velas Turtle Festival
9: Velas Beach
Obviously, I've left the very best for the last. Ganpatipule is among the most famous tourist destination all over India. GanpatiPule is renowned for its beautiful beach, lush jungle, and most importantly the Swayambhu (self-Manifested) Ganesh temple.
Ganpatipule is among the most active pilgrimage destination in Maharashtra. It is said that any wish asked Lord Ganesh will be granted here. This temple is visited by tourist all over India throughout the year. The beach itself is a beauty to behold. Soft white sands, clear blue water, and coastal fresh air make your stay here and gaze upon its beauty for hours.
Note: Ganpatipule Beach is Risky for Swimming in the Sea (Strictly avoided), so just enjoy its Beauty!
What's More? Konkan is a land of cultural significance. You can revisit our history at Prachin Konkan Museum. Exploring Prachin Konkan museum is like exploring a traditional Konkan village in the late '80s and early '90s in the most authentic way. This museum is full of life-like sculptures, designed as people doing their everyday chores in a busy village.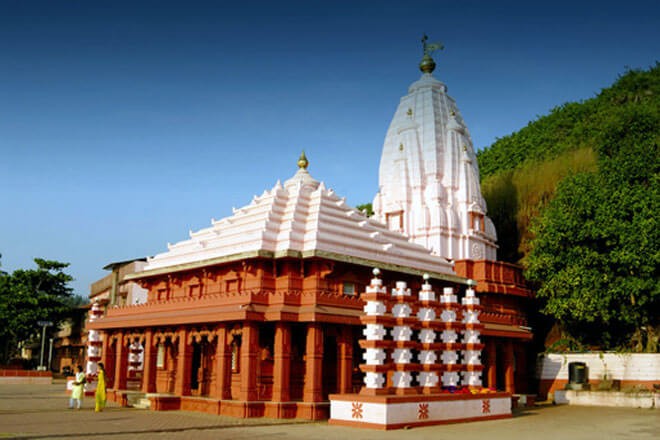 Family Friendly Destinations Konkan
Conclusion
Konkan is among the best tourist destinations in India, visited by thousands of Indians worldwide. But it is rarely visited by overseas tourist. Although Goa is a more preferred tourist destination by foreigners, Konkan provides an equally great experience of beaches and then some more. Being a historical, cultural and biodiversity hub of India, Konkan will sure fill your mind and soul with great traveling experience.
So pack your bags and meet us at Konkan.