Anjarle Turtle Festival 2023-24 Dates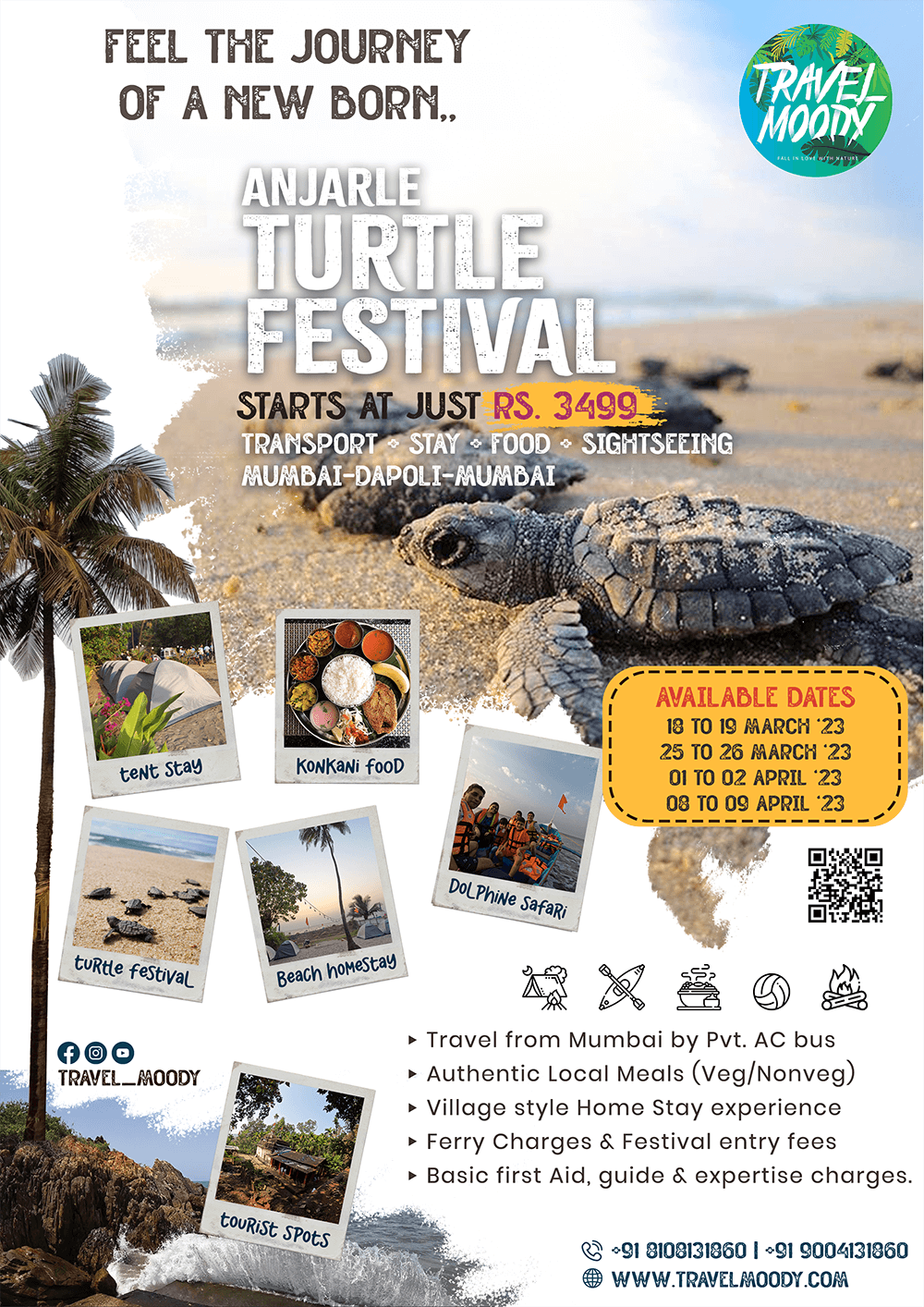 The Anjarle Turtle Festival in Dapoli, Maharashtra is a unique opportunity to witness the nesting and hatching of Olive Ridley turtles. The festival is held every year from February to April on the pristine Anjarle beach, which is located about 20 km from Dapoli. Anjarle Turtle Festival is organized by the local villagers who have been working hard to protect these endangered turtles for over a decade.
The festival attracts nature lovers, wildlife enthusiasts, and tourists from all over the world who come to witness the miracle of life as the turtles lay their eggs and hatchlings make their way into the sea. The festival is also a great way to support the conservation efforts of the local community.
During the festival, visitors can witness the nesting process of the Olive Ridley turtles, which is truly a magical experience. The female turtles come ashore at night to dig their nests in the sand and lay their eggs. The eggs are then carefully guarded by volunteers who keep a watchful eye to protect them from predators.
After about 45 to 50 days, the eggs hatch, and the baby turtles emerge from the sand, making their way toward the sea. This is a critical time for the hatchlings as they are vulnerable to predators and environmental threats. Volunteers ensure that the hatchlings are protected and guided toward the sea.
Apart from witnessing the nesting and hatching of the turtles, visitors can also enjoy the beauty of the Anjarle beach, which is known for its clear blue waters and white sandy shores. The beach is surrounded by lush green hills and coconut groves, making it a picturesque location for a relaxing holiday.
The Anjarle Turtle Festival is a great opportunity to support the conservation efforts of the local community and to learn more about these fascinating creatures. Visitors can also participate in various activities such as beach cleanups, turtle walks, and cultural programs organized by the villagers.
If you're planning to attend the Anjarle Turtle Festival, be sure to book your accommodation well in advance as the festival attracts a large number of visitors. Also, remember to follow the guidelines laid down by the organizers to ensure that the turtles are not disturbed.
Overall, the Anjarle Turtle Festival is a must-visit for anyone interested in nature and wildlife. It's a great way to connect with nature and support the efforts of the local community to protect these endangered turtles. So pack your bags, head to Dapoli and get ready for an unforgettable experience!
Itinerary:
Day 0 (Friday):
Depart from Borivali Station towards Anjarle at 9 PM & other pickups.
Day 1 (Saturday):
6:30 AM: Reach Anjarle Village & Immediately head out for Turtle Festival point in the hope of Witness Baby turtles.
8:30 AM: Check in at Home Stay at TravelMoody, Palande & Breakfast time. Remaining Time to Rest. Visit Harnai Bunder for a Fish auction. Return back to Home Stay for lunch.
3:00 PM: Freshen up & visit Kadyavarcha Ganpati Temple again visit the Turtle Festival point. Enjoy Beach along with  Beautiful sunset.
7:30 PM: Return back to Homestay. Overnight stay at TravelMoody Campsite & Homestay in, harne-Palande Beach.
8.00 PM: Campfire & Chill on Beach touch Homestay
9.00 PM: Have Konkani Delicious Dinner
Day 2 (Sunday):
7:00 AM: Go for Dolphin Safari, Water Sports activity on Palande Beach in front of Travel Moody Homestay and Camping.
8.30 AM: Freshnup and Have  Breakfast
9:00 AM: Head Towards Keshavraj Temple. En route enjoys a short Treak.
10:30 AM: Visit Keshavraj Temple 
12:30 PM: Have lunch & Start the Return Journey toward Mumbai with memories for a lifetime
THINGS TO CARRY:
ID proof

Water bottle

Ready-to-eat food/snacks (ex. Biscuits)

Camera (Optional)

Personal bedding 

Personal Clothing, Hygienic kit & Medical Kit (as per your requirement)

Shoes/Sandals/floater with good grip 

Cell phone with Charger, Power Bank

Sunglasses, caps, Sunscreen & Insect repellent 

Carry Enough cash (As per your requirement)
Tips & Suggestions :
Avoid heavy Luggage, suggest you carry a backpack/rucksack over heavy suitcases.
It's a Backpacking Trip, not a Luxury Trip;
Basic but decent authentic homestays in Travel Moody Campsite & Homestay, Palande Beach  will be Provided on Sharing Basis ( 6 people in 1 Room or Tent for two people)
Be Prepared for 2 days of sightseeing in a humid climate, almost it usually remains hot during the day.
We all are aware that starting a new life is a completely natural process, but we hope to be able to welcome the offspring at our time of visit to the turtle festival of Anjarle.
Summary:
Join us to witness the birth of a new life…
Observe the first walk of Olive Ridley Turtles towards the vast ocean…
We will also visit : 
Harnai bander

Friends Point

Keshavraj Temple

Kadyavarcha Ganpati
Note: Dolphin Safari & Water Sports also Available at Extra Cost
*Batches :*
Dm us at WhatsApp at +91 8108131860 below contact for dates. 
Departure on Friday at 9:00 PM from Mumbai
Available Dates:
18 to 19 March '24
25 to 26 March '24
01 to 02 April '24
08 to 09 April '24
Only 13 Participants per Batch
Tour Cost: 3,500 Rs. (Includes Food+ Accommodation + Travelling) 
Includes :
Travel from Mumbai by Pvt. AC bus

Authentic Local Meals (Veg/Nonveg)

Village-style Home Stay or Tent-camping experience with proper bedding.  

Ferry Charges & Festival entry fees

Basic First Aid, guide & expertise charges.
Contact: Office +91 8108131860
Nikhil +91 9004131860
Omkar +91 9702149159
Thank you!
Team Travel Moody. 
www.travelmoody.com