Kids Adventure Camp in Vashind, near Mumbai
Travel Moody's 1-Day Kids Adventure Camp in Vashind!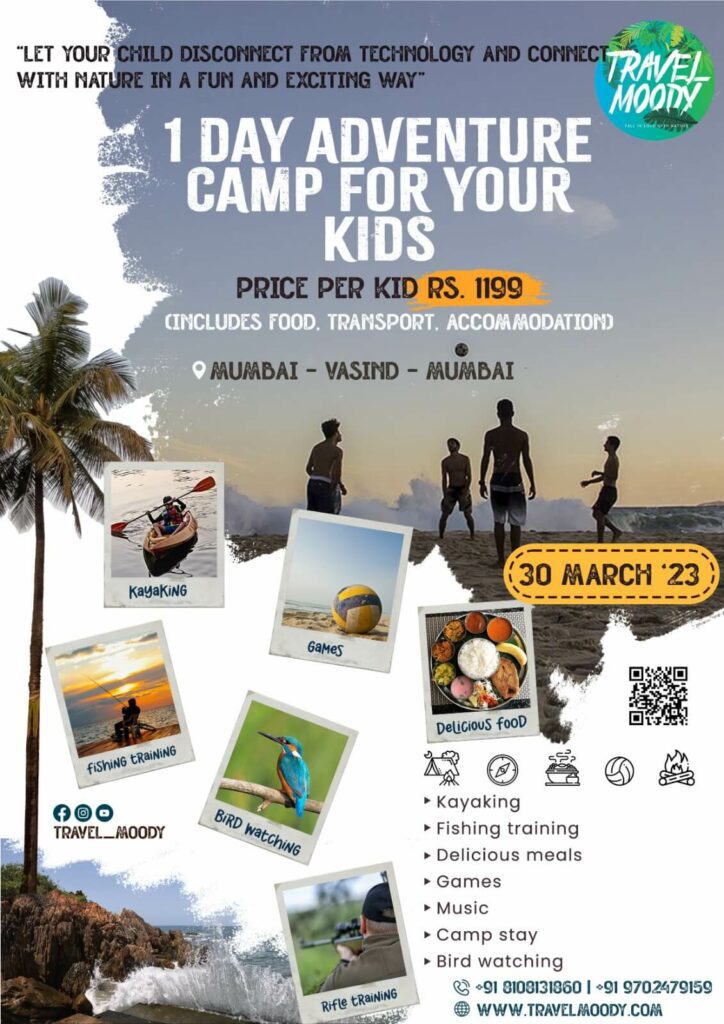 Are you looking for a fun and exciting way for your kids to disconnect from technology and connect with nature this summer? Look no further than Travel Moody's 1-Day Adventure Camp in Vashind!
On March 30th, 2023, we will be taking a group of kids from Mumbai to Vashind for a day full of outdoor adventures and activities. Our expert guides will lead the kids through a variety of activities designed to help them explore the great outdoors, learn new skills, and have a blast.
day will start with a bus ride from Mumbai to Vashind, where we will set up camp and get ready for a day of adventure. The activities will include kayaking, fishing training, rifle shooting, games, and more. Your child will have the opportunity to try new things, make new friends, and experience the thrill of being in nature.
We'll also provide delicious meals throughout the day, including snacks and lunch. And by 6 pm, we'll start packing up and return to Mumbai. We should reach back to Mumbai by 9 pm.
Some additional activities your child can enjoy at the campsite are bird watching and music. All activities will be performed under the guidance of experts, and we'll provide all necessary gear. Plus, we have emergency medical facilities available at the campsite in case of any emergency.
The price per kid for this day-long adventure camp is just 1199/-, which includes food and transportation. It's an incredible value for a day full of fun and adventure.
To learn more or to reserve your child's spot in the camp, please DM us or call our office at +91 9702479159 or +91 8108131860. Let your child experience the joy of connecting with nature and making memories that will last a lifetime with Travel Moody's 1 Day Adventure Camp in Vashind.